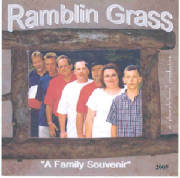 The band been busy this yr. we have been playing at alot of events and festvials . We are realy coming togethere as a band and we are realy a all family band .. hope to see you all out supporting bluegrass music...
We would like to say that bluegrass will miss
" The king of bluegrass music " Jimmy Martin
who passed way this yr 2005..
Ramblin Grass has a new CD out called
'A Family Souvenir" it has some of older stuff on it and some new songs as well . we are proud of this cd , My dad ( Vernon ) has 1 song on this new cd that he wrote back in 1986 and we are real proud of that and scott has also put a couple on that people havent heard in a while like 'souvenirs " that is a John Prine song , also on track 13 is a special song that 3 yr old skyanna Sutton sings with her grandpal that just real shocked all of us when she wanted to do it .. So we think that this cd has somthing for everyone on it , some slow and some hard driven bluegrass on it ..
so i guess the name of this cd hits the nail on the head, becuse to us it is a" Family Souvenir"
we would like to send a special thanks to "OLe Barn Productions " in Jackson K.Y.
The song 'SniffDipper " is a doing real good , it is getting a lot of air time on wsgs in hazzard K.y. and also wmmt in whitesburg K.y. . it was a song written by Mike Snider , and scott dedcied to put it on our new cd and people seem to like the song very well , it is our most requsted that people want to hear.
If you need info how to get one of cd's or booking info you can contact